I've Been Tagged
The lovely Tina from Enchanted Home tagged me to answer some questions about myself. I just hope I can do them justice. If you want to see how Tina responded to similar questions, you can pop on over and read them here.
Do you have a hobby?
I love to cook and bake and most say I'm quite good at it. I think it's in my blood as my grandparents owned 13 restaurants when I was growing up. My mom and I would spend a great deal of time in the kitchen together and it truly brings me so much joy! I made this
Tuscan Lemon Chicken
more than once and it is divine!
What's worse, failing at something or never trying to begin with?
I say hands down, never trying to begin with. If you don't take the chance and follow your dreams, you'll never know what the future holds. What are you waiting for?
Would you rather be a great cook or a great designer?
A great designer. It is my job after all!
If you could only have two rooms in your house, which would they be?
My kitchen and my bedroom.
Which 2 famous people would you choose to have dinner with?
You all know one will be Ina Garten, no surprise, and the other would be the cast of Downton Abbey. Yes, I know that's a lot of people, but I bet it would be interesting and fun!
What are four words that describe you well?
Thoughtful
Determined
Honest
Funny
Best book or two that you read in the last year?
I read a lot of design books, so there are too many favorites to count. I did read Tina Fey's book on the flight back from High Point Market and almost burst out with laughter many times. I tried to hold it back so I wouldn't be escorted off the plane.
What do you miss most about being a kid?
Being carefree. I had a really great childhood, so there are many wonderful memories.
Here's my 4th grade school photo, circa 1978. I could really rock a bow front blouse back then!
Yes, those are braids on each side of my head, too!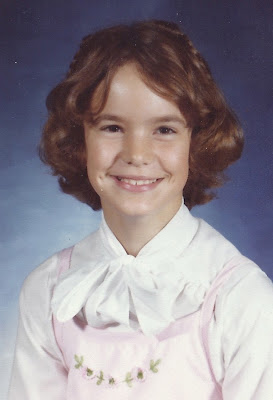 If you had a freaky Friday experience and had to trade places with one person, who would it be?
Can I choose Ina Garten again? Do you think her home/barn and all of her darling friends would be included as a package deal? Plus, you can join be for a drink on her patio!
Describe a perfect day from morning till evening...
A wonderful breakfast where calories don't count, a little time at the spa, coffee and/or lunch with a friend, shopping, a walk with my dogs, a nice dinner out and in bed at a decent hour. Funny how I had to make sure good food was in my answer three times. : )
A place in the world you have never been that you would love to go...
Italy! Planning a trip for 2013 with my sister. It can't come soon enough. Actually, it would be sooner if she could get more time off from work this year! Oh, and I want to stay at JK Place in Florence while I'm there! A client of mine stayed there this week. So jealous! I told her to take lots of photos for me.
I'm counting on you C.A. No pressure!
I'm now to pass this on to others, so I'm passing it along to all of you! If you'd like to answer the same set of questions and do a post, I'd love to read what you have to say!
Thank you again, Tina, for extending the invite to me! This was a lot of fun to put together!